Goal Reached! Your trips gave back to the Redmond community this month.
Update: You smashed our goal and took 56,691 non-driving trips in February! 
Thanks to you, the City of Redmond Human Services Division will award HERO House, YWCA, Friends of Youth, LifeWire, Congregations for the Homeless, Overlake Christian Church Safe Parking, Redmond Outreach Program, and Chinese Information and Service Center will receive funds to be used for transportation.  We expect that over 900 people will receive assistance with bus tickets and ORCA passes, resulting in over 24,000 trips!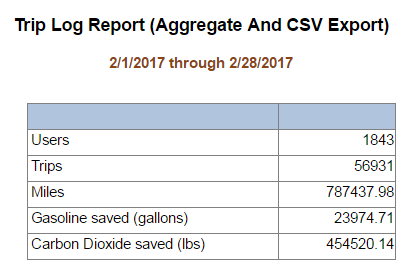 50,000 trips = 7,500 bus passes
Transportation is the second highest household cost in the Redmond area. Reliable access to transportation is a critical component to helping end poverty and can also help people experiencing homelessness get to their jobs and needed services. 
For the month of February, Go Redmond has set a community goal of reaching 50,000 trips added to the Commute Calendar.  If our Go Redmond community can reach this goal, we'll donate 7,500 bus trips to Redmond community members in need.  
So add all of your bike, walk, transit, carpool and vanpool trips to your Commute Calendar this month to give back to our Redmond community.
"Cleotha Nicholas wants to express thanks to the City of Redmond. She is grateful for the support she and her family received in reducing her barriers not only in transportation, but also in indirectly helping her become a productive individual to the community and giving her the self-esteem to live up to her potential. Her goal is to give back to the community, raise her son, keep her family in a safe environment and to one day achieve financial stability." — 2016 YWCA Client, Recipient of transportation funds
When the goal is achieved City of Redmond Human Services will award grants to agencies who will be able to distribute passes to individuals and families who may need a range of human services, such as shelter, affordable child care, or job assistance. 
To respond to recommendations coming out of Redmond's Task Force on Homelessness, priority will be given to agencies serving homeless individuals in our community.
Want to give back, but currently drive alone to work?
Go Redmond can help you find all of your commute options
New bus riders can get a free 1 month ORCA Bus Pass.
Find potential vanpools & earn 1 year of fare subsidies.
Create an account on Go Redmond (RideshareOnline.com) to add your trips to the Calendar.